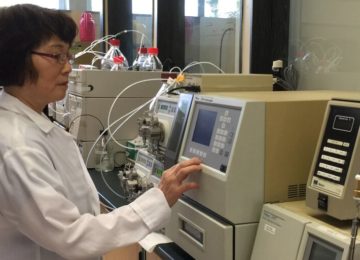 CAPABILITIES
BTR has well-established internal analytical and biochemistry capabilities that provide reliable support for Development Program activities in strain improvement, fermentation process development, protein expression, and downstream processing. BTR routinely operates a variety of standard analytical protocols. It is also generally most efficient for BTR to implement our clients' preferred or special analytical and biochemical methods, whenever possible, in support of Development Program activities.
BTR scientists may also improve existing methods and/or develop rapid methods to support analysis of the high volumes of samples typically generated in the course of a Development Program.
BTR also offers analytical and biochemistry assay and/or method development. If you have a need for method development and validation that cannot be done in-house due to technical complexity, or you need the work performed in a faster time period than your in-house laboratory can handle, BTR is the ideal source of help.
BTR scientists have experience in method development and implementation that satisfied FDA requirement. Our experts will design, test and validate the methods for you, and transfer the methods to your facility. Please see PowerPoint slideshow Analytical and biochemistry method development examples (pdf).
GC-FID
FAMES

Alcohols

Isoprenoids
UV/VIS DIODE ARRAY SPECTROPHOTOMETRY
Color-based assays

Coupled assays

Endpoint assays

Kinetic activity assays

Binding assays, protein interactions
HPLC
Carbohydrates

Organic Acids

Amino Acids

Fatty Acids

Antibiotics and other secondary metabolites

Enzymes, proteins and peptides
SDS-PAGE
Enzyme, protein, and peptide​ visualization and quantification
IMMUNOBLOTS (WESTERN BLOT)
Enzyme, protein, and antibody confirmation
Enzyme/protein/peptide purification with or without tags

Binding and protein interactions assays

Bioconversion, immunoblots, ELISA, etc.