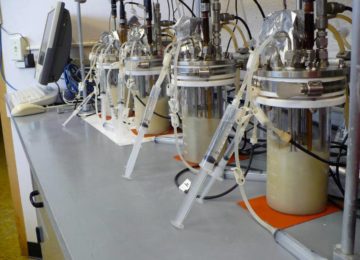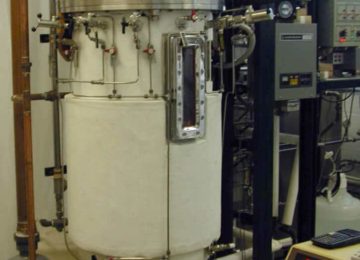 EXPERIENCE
Our scientists apply their extensive knowledge and skills to your projects in our fermentation R&D and pilot laboratories. We evaluate technical and economic goals so that we can recommend a process development strategy with acceptable risk. We also conduct statistically designed experiments (DoE using JMP® software from SAS) that will economically and systematically advance your project. The breadth of our experience, our total focus on your goals, and our dedication to teamwork leads to rapid product commercialization.
Over fifty-five years of experience developing fermentation and biocatalytic processes give BTR a unique perspective on the special challenges sometimes associated with developing a commercial process. Each process development program is unique and varies depending upon the starting point, the objectives, and the degree of difficulty in achieving the objectives. Some are long-term development programs, requiring years for completion. Others can be completed within several months. BTR tailors each program to fit our client's goals and objectives.
MICROORGANISMS
Examples of microorganisms with which our scientists have developed fermentation processes include:
Bacteria:

E. coli, Streptomyces, Bacillus, Pseudomonas, Lactobacillus, Erwinia, Rhodococcus, Clostridium, Corynebacterium, Propionibacterium

Microalgae:

Chlorella, Prototheca

Yeast:

Sacchromyces, Hansenula, Pichia, Yarrowia

Filamentous fungi:

Fusarium, Aspergillus, Gibberella, Dactylium, Myceliophthora (formerly, Chrysosporium), Trichoderma​
FERMENTATION PROCESS SUCCESS STORIES
Processes successfully developed by BTR scientists include the production of vitamins, amino acids, organic acids, antibiotics, biocontrol agents, polysaccharides, enzymes, antibodies, therapeutical proteins, hydrocarbon bioconversions, fatty acid bioconversion, biofuels, antibiotics, APIs, chemicals, and pharmaceutical biomass.
The following projects illustrate the variety of services we perform:​
Screened and identified novel steroid biotransformation activities in fungi.

Isolated a novel and patentable enzyme for peptide transformation to be used in the manufacture of a key biologic.

Increased the fermentation yield of a therapeutic protein while identifying and correcting the gene sequence.

Led the technology transfer of a generic antibiotic process, doubled the yield through process development, and successfully scaled the new process in our client's production facilities.

Conducted a complete technical assessment of an enzyme transformation which was used to determine feasibility, set technical goals, establish a budget, and develop time frames and work schedules for commercialization.

Developed an E. coli fermentation process for N-acetylglucosamine production.